Synthetic Turf for Courts
The popularity of synthetic turf courts is on the rise. For tennis,volleyball, bocce ball, and more — artificial grass is the preferred playing surface for athletes across America. But what exactly are turf courts, and why are they gaining popularity? This article will provide a comprehensive look at synthetic turf courts and their many benefits.
History of Synthetic Turf Courts
Synthetic turf has been around since the 1960s when athletes first used it as an alternative to natural grass fields. Its simple maintenance and long product life made it popular for organizations across all different sports. For the first time ever, athletes could enjoy a consistent playing surface year round that wasn't concrete!
Artificial Grass Volleyball Courts
Artificial turf offers volleyball players the grip and bounce they need for spikes, sets, and serves! The consistent bounce provided by these surfaces ensures that players can move freely without worrying about uneven ground.
Additionally, turf offers better drainage than natural grass when it rains, and its synthetic makeup means it won't wither in the summer heat. As a result, artificial grass is playable all year long – which isn't always possible with natural grass courts! Furthermore, builders install these surfaces quickly and easily, so teams can get back into action right away after installation is complete!
Artificial Grass for Bocce Ball Courts
Bocce ball is extremely popular nowadays. Both professionals and amateur players know that artificial turf courts are the way to go for the best game. These courts provide excellent traction, so balls roll true every time. Sand courts have an unpredictable hardness, grass courts develop divots over time, and stone courts can damage your equipment. Turf offers a consistent game, everytime. It also offers extra cushion underfoot, so players are still comfortable after hours of exciting play. Additionally, because these courts use non-abrasive infill materials, they won't damage balls like sand or dirt might – ensuring longer life spans for your bocce set!
Artificial Grass Tennis Courts
Tennis players have long enjoyed the benefits of artificial grass tennis courts. Manufacturers make turf out of materials that create consistent bounce and provide ideal gameplay. Clay courts and hard surface courts may be cheap to maintain, but they dry out or overheat, offering an inconsistent game for players. This will never happen with turf.
Additionally, synthetic grass tennis courts are low-maintenance compared to natural grass courts; it doesn't require regular mowing or watering.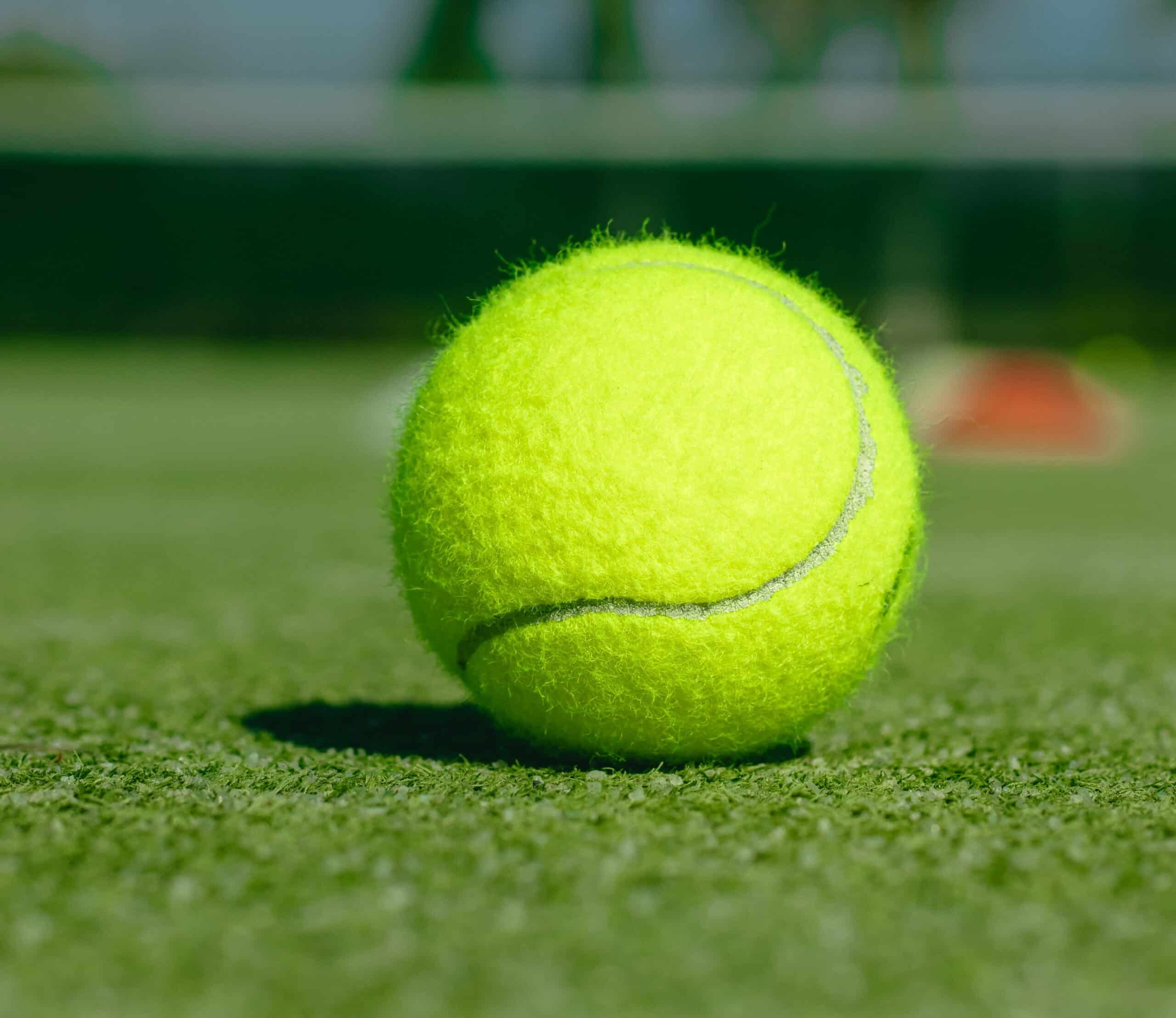 Overall Benefits of Recycled Turf for Sports Activities
There are so many exciting benefits to installing artificial turf for sports fields and courts, including:
Consistent performance regardless of weather conditions

Reduced maintenance requirements

Improved safety features, such as impact absorption and better traction control

Faster installation times that are ideal for a DIY or professional build

Longer lifespan compared to natural grasses

An environmentally friendly design means reduced water usage with no harmful urban runoff

Recycled turf costs only cents per square foot, unlike other pricer products on the market today
In conclusion, synthetic turf offers numerous advantages over traditional tennis court surfaces – from enhanced consistency across all weather conditions to improved safety features and reduced maintenance requirements.
Recycled Synthetic Turf Courts from Artificial Grass Recyclers
At Artificial Grass Recyclers, we specialize in providing high-quality synthetic turf for a variety of sports. We offer indoor and outdoor court systems to meet each customer's specific needs. By using reclaimed sports turf, you can save 50-75% on the cost of new turf. 
Our recycled artificial turf options provide superior performance at an affordable price. So if you're looking for a cost-effective and reliable solution for your sports playing surface needs, look no further than Artificial Grass Recyclers!
Interested in learning more about the benefits of high-quality recycled artificial turf? Call us today and let our experienced professionals find the perfect solution for your turn needs!
What turf do tennis courts use?
Tennis players have long enjoyed the benefits of synthetic grass tennis courts. Manufacturers craft turf out of layered materials that create consistent bounce and make it ideal for competitive play. Turf has the look and feel of natural grass without the constant maintenance like weeding, watering, and mowing. If you're looking for artificial turf for indoor tennis, try our Eco 59 Silver Hybrid. This product is made with mono-filament and slit-filament yarn. The slit-filament reduces infill migration so you lose less infill over time.
Are grass courts actually grass?
Some tennis courts feature natural grass surfaces. Unfortunately, this style of court is expensive and difficult to maintain. They are prone to mud patches and uneven ground can result in serious injury. Many grass-style tennis courts utilize artificial turf to get the look and feel of a grass court without the cost, hassle, and risk.
What is the most affordable tennis court surface?
Recycled artificial turf courts are significantly more affordable than other products. Recycled turf costs cents per square foot rather than dollars. Many tennis courts opt for this lower-cost, high-effectiveness option.
Contact Us
Please complete the form below and a sales representative will contact you to help get your project started. You can also reach out to our many local artificial turf dealers.
Would you prefer talking to someone?
For a quicker response, you can schedule an interactive screen sharing appointment or a one-on-one phone call with a turf specialist.