Synthetic Turf for Indoor Fields
Indoor turf fields offer athletes a consistent playing surface in all seasons! Whether it's football, soccer, lacrosse, or any other sport, turf indoor fields offer superior performance and safety benefits. Turf fields are also safer and better performing than traditional indoor fields made of carpet, rubber, or even wood floors.
Organizations Love Turf Indoor Fields
Sports organizations love indoor fields because they support high performance play and are easy to maintain. Unlike other indoor surface materials, such as clay or concrete, indoor turf is bouncy, versatile, and helps reduce pressure injuries. When it comes to high impact training and jumping, indoor turf reduces the impact players take on joints and tendons. Plus, indoor turf comes in various styles and lengths, so facilities can find the best fit.
Benefits Of Indoor Artificial Turf Fields
In addition to being low maintenance and providing year-round playability, indoor sport facilities' turf fields also offer several other advantages over traditional indoor surfaces.
Impact Absorption
Turf fields provide better impact absorption than hard indoor surfaces – reducing the risk of injuries caused by hard landings or falls on the field.
Year Round Play
One of the main benefits of indoor turf is it provides a reliable game year round due to its durability and high carbon yarn makeup.
Precise Control
Indoor turf fields also allow for more precise ball control due to their uniformity – making them great for sports such as soccer, where precision passing is essential.
Comfortable Surface
Indoor turf is much easier on players' feet than harder surfaces – offering greater comfort during extended practices or games.
Simple Maintenance
Maintaining an indoor turf field is easy! It requires minimal upkeep, such as removing debris regularly and occasionally brushing using a stiff brush to perk up the blades.
Different Indoor Field Application
A wide variety of sports teams and athletes use artificial turf fields for practice and competition. The safety features, easy maintenance, and affordable options make it a favorite for many teams.
If teams in the NFL prefer turf, so should you! The impact-absorbing material helps keep players safe, which is vital for high-impact sports like football.
From the minor leagues to MLB teams, baseball teams often prefer turf to natural grass. The uniform, dependable nature of artificial grass allows increased safety and performance for players to rely on the slip-resistant material.
The improved grip texture in any type of weather gives artificial turf a leg up on natural grass fields. This makes it a favorite of many dedicated soccer players.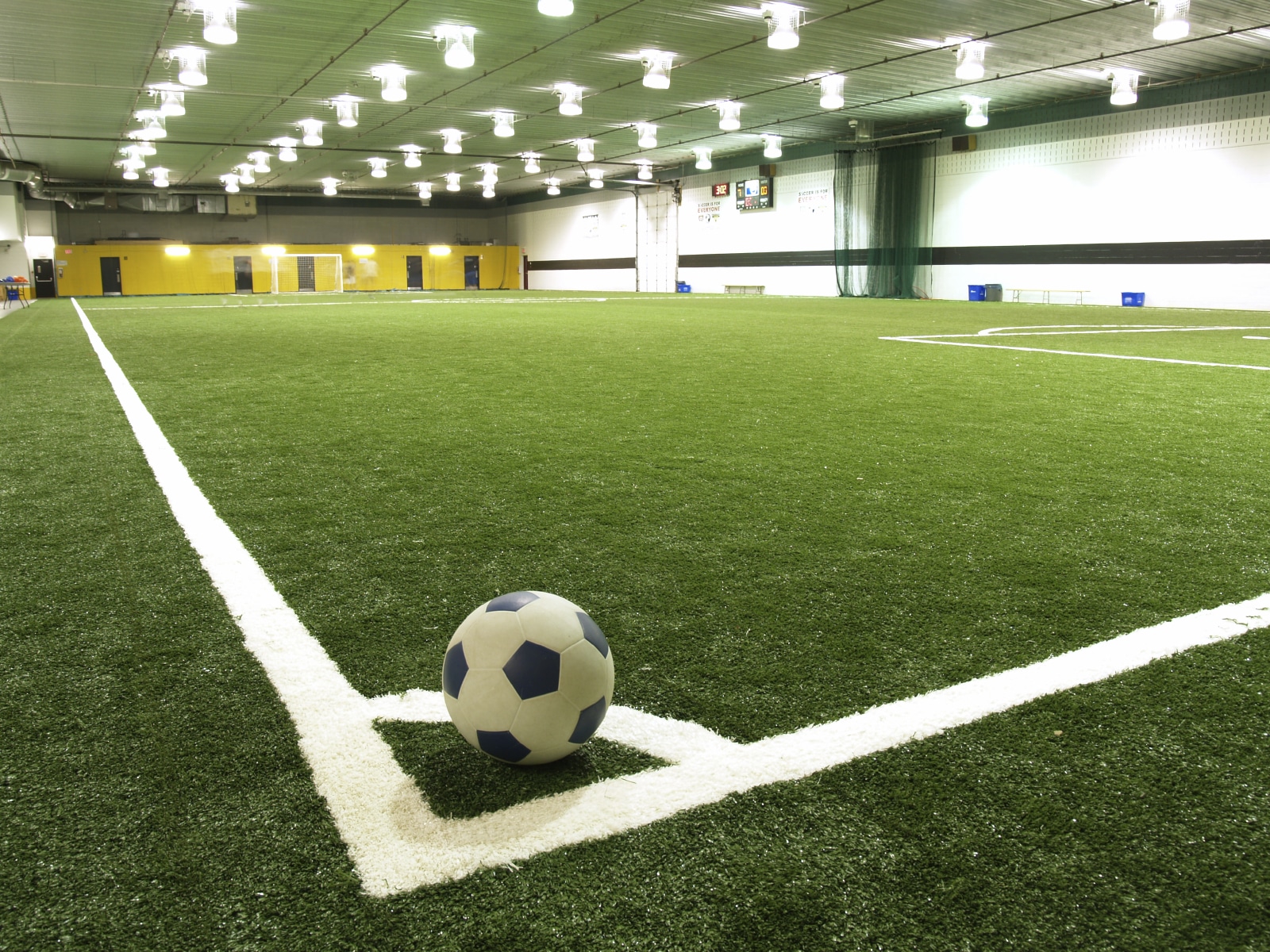 While natural grass is the historical choice for tennis courts, the high maintenance and safety issues make it unpopular for modern athletes. Turf courts allow tennis players to enjoy the superior performance of a grass court without the unpredictable nature of natural grass
Different Types Of Indoor Artificial Grass
When it comes to choosing the right type of artificial grass for your team's needs, Artificial Grass Recyclers has several available options. Because we deliver the highest quality recycled and repurposed artificial sports turf materials, our customers have access to a quality product within their budget.
Monofilament Artificial Grass
Monofilament artificial turf is the most natural looking grass option available. This artificial grass has a slim, straight blade with a soft touch. Monofilament artificial grass is preferred for landscape applications due to its natural look and feel.
Slit-Filament Artificial Grass
Slit-filament artificial grass is designed for tough applications like sports and heavy traffic areas. The slit-filament design minimizes blade count in the backing weave so it's nearly impossible for the grass yarn to fall out. Plus, the web fiber acts as a barrier to prevent infill from migrating, minimizing the need for maintenance. 
Foam Backings
Artificial Grass Recyclers also has turf equipped with foam backings to provide an extra layer of support and protection. This foam backing technology is ideal for sports applications that require turf to withstand tough play while offering a gentle surface. 
About Artificial Grass Recyclers
Artificial Grass Recyclers is the premier provider of high-quality recycled and repurposed artificial turf nationwide. Our turf costs a fraction of the price of brand-new turf while still providing the incredible benefits and quality you want from turf products. Our processes allow quality unwanted turf to be repurposed instead of tossed in a landfill. To date, we have recycled over 7 million square feet of used turf! No matter what project you're working on, we have the expertise, product, and pricing you need.
Reach out today and let our experienced experts help you find the artificial turf solution you've been looking for.
Can turf be used indoors?
Yes! Sports turf performs well both indoors and outdoors and makes an excellent option for sports fields located inside covered arenas and sports complexes.
What kind of turf do indoor soccer fields use?
Soccer teams across the globe favor a wide variety of well-performing turf. Reach out today to learn how we can help you find affordable, high-quality turf that is perfect for your project.
What is an indoor football field made of?
Indoor football fields can be natural grass or synthetic turf. Many NFL teams prefer artificial turf fields for their low maintenance and increased safety features.
Contact Us
Please complete the form below and a sales representative will contact you to help get your project started. You can also reach out to our many local artificial turf dealers.
Would you prefer talking to someone?
For a quicker response, you can schedule an interactive screen sharing appointment or a one-on-one phone call with a turf specialist.