Most Trusted Artificial Turf Dealer in Rockwall, Texas
Rockwall's Top Recycled Turf
Want to improve your home or business? Looking to transform a sports field? Need grass for your pets? Then we've got you covered!
Artificial Grass Recyclers proudly serves Rockwall, Texas with top quality new and repurposed artificial turf!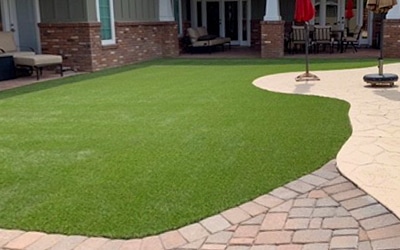 Turf Life Benefits
A turf yard provides space for entertainment and recreation while improving the overall look and feel of your home. From backyard BBQs to catch with the kids, turf lawns offer functional space for creating lifelong memories. And with artificial turf you can actually be there to enjoy it!
Artificial grass saves you from endless hours of back breaking lawn care, so you can be there for the moments that matter. That means no more weekends wasted seeding, weeding, and mowing.
Our artificial turf looks and feels just like living grass. We have a wide variety of turf products to choose from, including recycled artificial grass — which is available for 50-75% less than the cost of new turf. And that's not the only way AGR saves you money!
Say goodbye to expensive water bills with a lawn that stays green and gorgeous year round. All the water in the world can't guarantee that natural grass won't wilt in the summer. Synthetic grass on the other hand is built to withstand the toughest conditions. Heat can't kill our grass! And neither can frost, flooding, or freak weather.
What Is Recycled Artificial Grass? 
Our recycled turf is sourced from community sports centers. Local regulations require these fields to be switched out every several years, regardless of condition. Artificial Grass Recyclers buys the highest quality fields and resells them to customers across the country at discounted rates.
It's recycled sports turf, designed to withstand the sharpest cleats and toughest tackled. So it should have no problem standing up to heavy foot traffic, harsh weather, pet waste, and whatever else you can throw at it!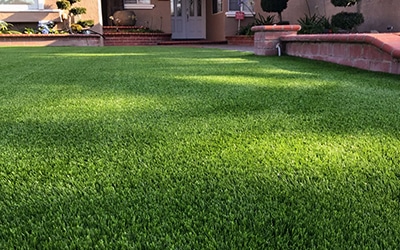 How Artificial Grass Recyclers Can Help You!
Artificial Grass Recyclers is the number one used turf supplier in the country. We've recycled over 7 million square feet of used turf and have over 10 million square feet of inventory on hand!
We offer customers the best possible deals on quality used turf — backed by our price match guarantee. Our recycled turf is available for 50-75% less than new turf.
AGR also sells new turf! If you want to increase curb appeal with a perfectly manicured lawn, we have the right turf for you. Our signature line of new turf products are constructed using industry leading technology, and are guaranteed to make your yard the talk of the town.
No matter what the project, we have turf to fit every budget!
Rockwall Artificial Turf Installation
Artificial Grass Recyclers has resources for DIY installation! We provide the information you need to correctly install your turf lawn at a price that works for your budget. We've helped thousands of people install their new turf. With AGR you won't have to break the bank to get quality products or learn how to install turf yourself. We have an installation guide and installation video that walk you through the process.
Browse our products, services, and gallery to learn more about how Artificial Grass Recyclers can help you transform your property.
Let's Get Started!
Contact AGR to learn more about how we can save you time and money.
Contact Us
Please complete the form below and a sales representative will contact you to help get your project started. You can also reach out to our many local artificial turf dealers.
Would you prefer talking to someone?
For a quicker response, you can schedule an interactive screen sharing appointment, a one-on-one phone call with a turf specialist, or you can send us a text.